TRAFFIC COATINGS
Flexstone coatings are durable, easy to apply and versatile. Flexstone applications have expanded to cater to more industrial and commercial needs. One of these applications is for traffic coatings (vehicle parkades, suspended slabs, and garage floors).
Vehicle parkades and slabs located above underground parking lots require stable and long- lasting coatings to ensure that leakage does not occur. Leaks in concrete foundations and underground lots can cause cracking and rust the re-bar in the concrete. This can compromise the structural integrity of a building.
It is not worth taking any chances with unproven coatings, as the consequences of poor traffic coatings can be costly. The majority of coatings marketed for this purpose are solvent-based urethanes that are simply rolled over the concrete. These provide a very thin layer of protection that can get worn down by vehicle traffic.
Flexstone is applied thicker than other membranes. It will outlast any other traffic coatings on the market. The product also does not dry out and crack. Our coatings move in unison with the natural shifts in your building's foundation. So even if you're concrete cracks, our membrane will remain flexible for years.
[Flexstone is fully CCMC approved] Most urethane traffic coatings are solvent based. This means that when working in enclosed areas like underground parking lots, the area must be shut down due to dangerous fumes. Flexstone Ontario's world famous base-coat is water catalyzed and odourless with no dangerous fumes. This means that avenues can allow cars through while each section of the lot is being coated. No more inconveniencing your tenants or customers with parking shortages.
Flexstone comes in a variety of different colours and finish types. So whether you are creating your dream garage or coating an entire underground parking garage, there are options to suit your need.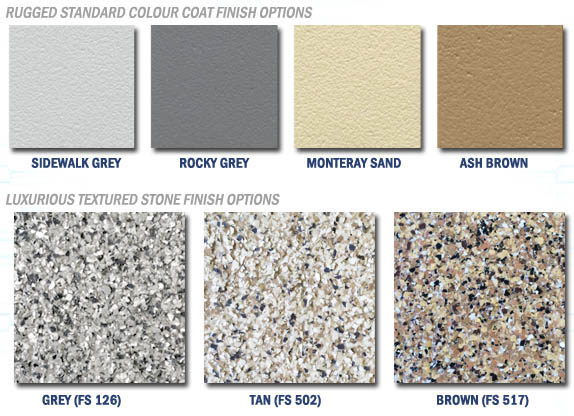 For more information on Flexstone traffic coatings, please feel free to contact us. One of our experts will be happy to assist you.
TRAFFIC COATINGS GALLERY