Green Roofing Overview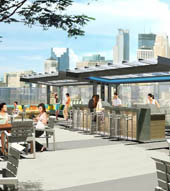 Flexstone Coatings were recently fully approved for use on flat roofs all across Canada. This opens an exciting new market for our outstanding membranes to be utilized for flat green roofing applications.
See approvals HERE| Just search for Flexstone under the "Product" tab.
Flexstone is comprised of :
a thick water-catalyzed urethane base, an aromatic urethane top-coat, a blend of fire resistant acrylic chips, and a one-part clear urethane finish coat (for more information see our Products Section.
The system is UV stable, flexible, 100% seamless, waterproof, and resistant to below freezing temperatures (originally invented for ski-resorts). Its durability is unmatched and the cost is competitive (even lower) than other approved systems like torch-on.
Flexstone green roofing system boasts a series of valuable properties (read on below) that make choosing our product an easy decision for any flat green roofing project.
FLAT ROOF GALLERY