Sundeck Coating Overview
Flexstone Ontario Coatings are predominantly used for sun deck surfacing and restorations. The CCMC approved coatings are ideal for decks, walkways, and more. Flexstone Ontario's seamless luxurious finishes provide attractive and rational solutions to your waterproofing and exterior design problems. The fact that pricing is comparable to inferior products like vinyl or fiberglass makes the decision even easier.
Flexstone Ontario is applicable over a range of different surfaces including plywood, concrete, existing fiberglass/vinyl decking (applicator's discretion), and even torch-on sbs roofing.
Of course, Flexstone Ontario is also fully CCMC approved and boasts unrivalled durability. It's ability to effectively withstand Canada's harshest climates makes Flexstone Ontario the decisive front-runner in the sundeck waterproofing market.
Finally, Flexstone Ontario boasts 3 stunning and slip-resistant textured stone finishes as well as 4 standard colour coat finishes. There's an appearance to suit any sun deck design scheme. If by some chance our finishes don't suit you or you are looking for a tile or deck-board style finish, no problem! Tiles and deck-boards can be installed directly on top.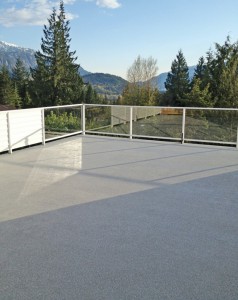 Flat Roofing / Roof-Deck Conversions
Flat roofing is an industry that suffers a great deal of pitfalls in damp or cold climates. Torch on roofing has exposed seams that are prone to opening and tar & gravel will eventually dry and crack (in a hurry if there's a lot of freezing and thawing).
Finally, we have an exceptional alternative in Flexstone Ontario. With the new CCMC approvals, Flexstone Ontario is now on a very limited list of membranes permitted on flat roofs and decks. The seamless coating provides a thick, flexible, and uniform bond that is 100% waterproof, resistant to below-freezing temperatures, and UV stable (fade resistant).
What this means for the roofing industry is that building and homeowners are able to convert their existing (or new) flat roofs into fully functional and approved roof-decks. With costs below that of torch-on, flame-free application, and attractive finish options, Flexstone Ontario is an ideal solution to your flat-roofing problems.
No longer are building owners limited to roof-deck conversions that require heavy and expensive concrete pavers to be installed. Save your roof the anguish of weighted additions, go with the simple and rational option... Flexstone Ontario.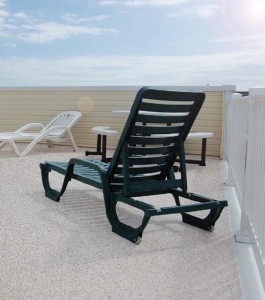 Vehicular Surfacing
Vehicular re-surfacing and general concrete waterproofing is made easy with Flexstone Ontario. Our solvent free base-coat is odorless and can be applied without the use of gas-masks. Additionally, the durability of Flexstone Ontario withstands vehicular traffic for decades.
The waterproofing capabilities and inherent flexibility of Flexstone Ontario allow the membrane to move with the shifting of the building's foundation, ensuring that water will not be able to penetrate the surface and cause damage / rust the supporting re-bar.
When it comes to waterproofing below-ground parking lots, suspended slabs, and concrete foundations, it's never worth rolling the dice on an unproven product.
Flexstone Ontario is not limited to parking lots, it also works great on driveways, residential garage floors, show-rooms, industrial floors and more.
Competitively priced, the toughest membrane on today's market is the best choice for your parkade and flooring needs.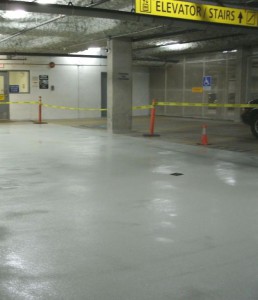 Major Projects - Overview
Traditionally Flexstone Ontario has been most heavily relied upon for restoration work on single family homes. We built our business around our product's strengths; being it's durability, excellent adhesive properties, and great looking seamless appearance. Today, with full CCMC approvals, exciting new markets are opening up for Flexstone Ontario.
The new construction market is the most significant of these, as most construction products have a multitude of decks. Our CCMC approvals have the capacity to override the judgments of building inspectors and engineers because it passed the rigorous testing required of a flat-roofing membrane which is the part of your home or building that takes the brunt of our weather conditions.
Flexstone Ontario is now able to compete with the traditional (and inferior) waterproofing methods that involve a glued down rolled-out product (vinyl decking) or torched-down membrane (torch-on sbs). Both these methods have some significant disadvantages to Flexstone Ontario, primarily, the existence of seams which are prone to leakage as time goes on.
Flexstone Ontario's simple application process, superior appearance, seamless finish, and unrivaled durability make it an obvious choice for most developers' sundecks and flat-roof decks (many of which have already made the transition).
For more information on how to get Flexstone Ontario installed on your new sun deck(s), please contact us at Flexstone Ontario Ontario.
Tel: (905)-993-1330 | Email: This email address is being protected from spambots. You need JavaScript enabled to view it.